A native to Washington state, I've been designing and producing jewelry in the Seattle area for close to two decades. I've always embraced the idea of handmade, preferring to make something out of love for the process, then experiencing the pleasure that comes from sharing it with others. Growing up on Bainbridge Island, I was always making things for my family and friends. But it was my mom who provided a glimpse into what a degree in Studio Art could be: 'Get your business license and become a jewelry designer' was her advice. She is still – to this day – one of my biggest fans and ardent followers of my success.
The first few years I found modest success with my work, combining glass with wire, glass with pearls, pearls with wire, wire with wire. I drew inspiration from artists like Lynn Merchant, Tracy Stanly and Isis Ray. I pursued studio classes in an effort to expand my skill set: lampwork glass , silver soldering, metal forging, precious metal clay, fire walking. Kidding - the class was full. I found the studio classes to be both challenging and influential in how I approached my work.
A lot has happened since then and I've experienced my fair share of change: got married, bought a house, started and ended a few different jobs, made some lifelong connections and lost a couple as well. The one constant in all of this has always been my work and only recently did I make the leap into entrepreneurship, a terrifying but critical step for anyone but most certainly for yours truly. I'm so thankful I jumped – I have never been happier following my chosen path!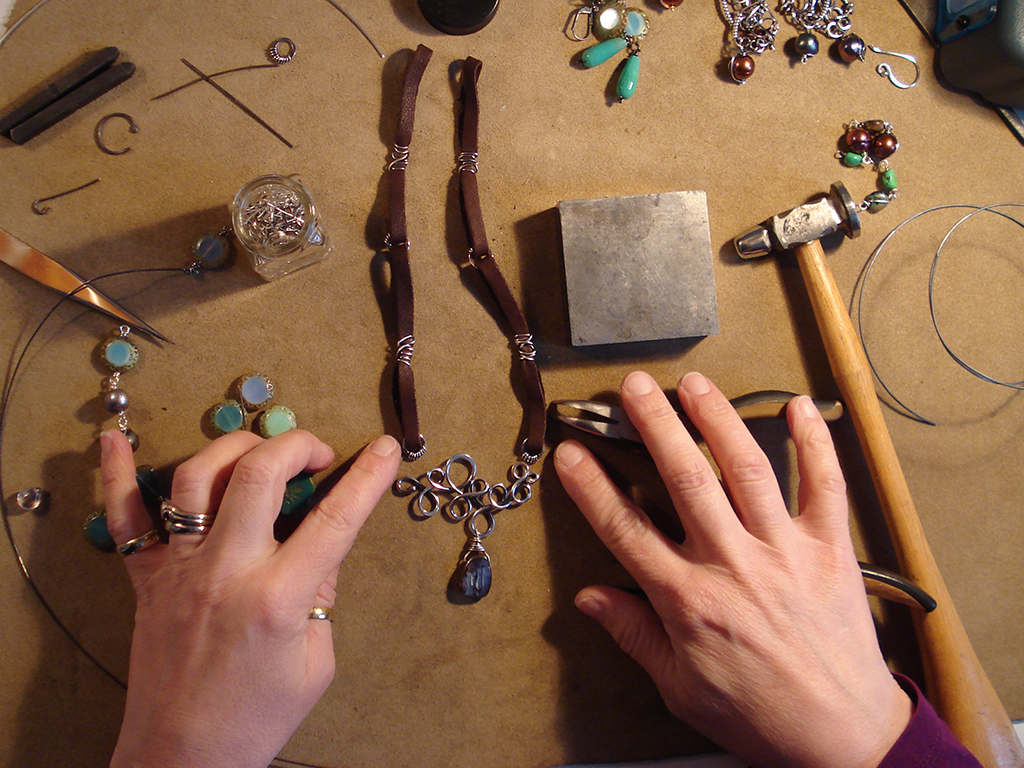 Much of my inspiration comes from the materials I use and the organic shapes I find in nature. I am intrigued by the never ending variety of textures, shapes and colors within different bead groups; facets, irregularities, every color in the spectrum - shiny and matte. The simplicity of wire wrapped around a bead paired with a hand crafted spring or nest of sterling silver wire is always beautiful, and inspires me to continue the exploration of other combinations. When designing and producing work like this there really is no end to what you can create. The possibilities only cease when you stop imagining.
Every piece is an original combining semi-precious stones, freshwater pearls, glass beads, sterling silver and 14k gold fill. The work demonstrates an experienced sense of color and quality of craftsmanship. All pieces are designed to withstand the wear and tear of daily use, making them as enduring in quality as they are in style. With a variety of necklaces, bracelets, rings, and earrings, I offer something for every taste and occasion.
Visit my online store!